Welcome to the Official Website of
Elk County Kansas
Be sure to bookmark this page & save it to your favorites.
Employment opportunities with Elk County Kansas.Click here.
Elk County, located in Southeast Kansas, is known for its awesome natural scenery, wildlife, unique attractions, nationally renowned hunting, great schools & family values. Hard working farmers & ranchers contribute to many areas of agribusiness, and the five communities of Elk Falls, Grenola, Howard, Longton and Moline offer a wide variety of attractions. The oldest swinging bridge in Kansas, museums full of past treasures, friendly local businesses and a massive wind energy project owned by Enel Green Power are only the beginning of the adventures to be found here. We are also home to the world class Flint Oak hunting club. Elk is a diverse county that is rich in history, some of which can be read about here.

Since 1875 the county seat has been located in Howard. According to the 2010 U.S. Census the population of Elk County was 2,882. With quality schools, this small rural county is known as a wonderful, safe place to live and raise a family. Take a break from the fast-paced lifestyle. Come see what we have to offer. Wiki-stats about Elk County can be found here. Visit the official Kansas website to find lots of helpful state resources by clicking here.

List your County business or organization today for FREE. Select Businesses from the menu above.
Learn more about the Kansas State Extension Service & Natural Resources Conservation Service
Here's our current weather in detail, real time radar, and a forecast from WeatherUnderground*
Pay traffic & court fines here at Cite Pay

Many support documents, agendas, minutes, etc. on this site require Adobe Reader* 7.0+ to view.
The latest version can be downloaded for free. Click the icon below.
*Adobe, Adobe Reader and the Adobe Reader logo are either registered trademarks or trademarks of Adobe Systems Incorporated in the United States and/or other countries. Intellicast is a copyright of WSI Corporation.
---
County Courthouse
225 E. Washington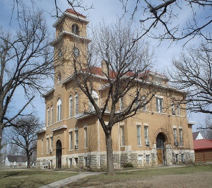 Howard, KS. 67349
(620) 374-2490

Hours: Mon -Thu
7:00 AM to 5:30 PM
(Treasurer to 5:00 PM)
Closed Fri., Sat. & Sun
2018 Holiday Closure Schedule
County offices will be closed on the following dates, with the exception of EMS & Sheriff services.
| | |
| --- | --- |
| Martin Luther King, Jr. Day | Mon,Jan 15 |
| President's Day | Mon, Feb 19 |
| Memorial Day | Mon, May 28 |
| Independence Day | Wed, July 4 |
| Labor Day | Mon, Sep 3 |
| Columbus Day | Mon, Oct 8 |
| Veterans Day | Mon, Nov 12 |
| Thanksgiving-Close at Noon | Wed, Nov 21 |
| Thanksgiving | Thur, Nov 22 |
| Christmas Eve | Mon, Dec 24 |
| Christmas Day | Tue, Dec 25 |
| New Years | Tue, Jan 1, 2019 |
Rural Fire
Public Notice
Per Kansas State Law, you are required to notify the Elk County Sheriff's Department at (620) 374-2108 before beginning any controlled burn and again when finished. (K.A.R. 28-19-645, 28-19-646, 28-19-647, 28-19-48)
Click here for more information
Illegal Dumping
Did you know that placing your trash on someone else's property without permission is littering? The Kansas statute for Criminal Littering, (K.S.A. 21-3722), states:

Criminal littering is intentionally or recklessly depositing or causing to be deposited any object or substance into, upon or about: (1) Any public street, highway, alley, road, right-of-way, park or other public place... (2) Any private property without the consent of the owner or occupant of such property.

Please remember that ILLEGAL DUMPING is a misdemeanor and is punishable by law.
VIOLATORS WILL BE PROSECUTED.